St Nicholas Abbey Tour in Barbados
Caribbean » Barbados » Barbados » Barbados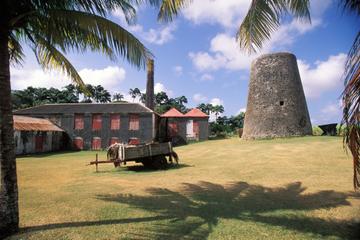 Duration: 5 hours
Departs: Barbados
Price from USD 79.99
Book Now
Explore one of the only authentic Jacobean mansions in the Western Hemisphere on this tour to St Nicholas Abbey in northern Barbados. With an abbey guide, learn about the sugar plantation's history, which goes back to the mid-1600s, and tour the great house to see antiques from the 18th and 19th centuries. Enjoy a glass of rum punch, see the old mill and rum distillery, and admire the estate's lush grounds. Lunch at the abbey's Terrace Cafe is included.
After hotel pickup by luxury van, head to St Nicholas Abbey in the parish of St Peter, approximately 15 miles (24 km) north of Bridgetown. Despite its name, the estate has no religious affiliation — it is a sugar plantation and great house that dates back to the mid-1600s.

When you arrive, meet a guide from the estate to begin your 45- to 60-minute tour of the stately great house and the adjacent rum and sugar museum. As you explore the first floor of the house, learn about its authentic Jacobean architecture — rare in the Western Hemisphere — and admire drawing room and dining room antiques like an 18th-century sideboard, two Wedgwood tea sets and a grandfather clock built in 1759.

Continue to the museum and enjoy a glass of rum punch or fruit juice before heading inside to see historical plantation artifacts. After the tour, you have free time to wander around the grounds of the plantation. Take a look at the old mill and rum distillery, admire the lush foliage of the sugar cane fields and mahogany trees, or visit the flower and herb gardens.

Lunch is provided at the abbey's Terrace Cafe, which overlooks the tropical gullies and serves light items like sandwiches and salads. Wine and beer are also available at your own expense.

Your tour ends with return to your hotel.
« All Activities