Private Tour: Barbados Catamaran Snorkeling Cruise
Caribbean » Barbados » Barbados » Barbados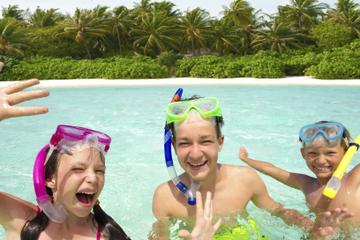 Duration: 5 hours
Departs: Barbados
Price from USD 173.99
Book Now
While you're in paradise, treat yourself to a private catamaran cruise along Barbados' west coast. Spread out and relax with your family and friends on a spacious schooner that you'll have all to yourself as you cruise to two different snorkeling spots to find sea turtles and colorful fish in the clear Caribbean water. You'll have plenty of time to cool off in the water, and you can even swim to a beach. A light breakfast snack, lunch and unlimited beverages are provided!
Your private excursion begins with hotel pickup for the drive to the marina in Bridgetown. Meet your captain and board your own personal catamaran, El Tigre, a 60-foot-long (18-meter), 24-foot-wide (7-meter) schooner. The vessel is big enough to carry 50 passengers but you and your group of lucky friends and family get it all to yourselves. Take a seat in the shade or stretch out in the sunshine — there's plenty of room!

As your captain pulls out of the marina and heads along the west coast of Barbados, all you have to do is relax and enjoy the sea breeze on your face. Admire the pretty coastline, as you sip a coffee or juice as you enjoy a slice of coconut bread. Want a drink with a little more zing to it? Take advantage of the unlimited soda, beer and rum punch provided during the cruise.

Make your way to your first snorkeling site, where sea turtles are often spotted. You have about 45 minutes to snorkel before hopping back on the catamaran to sail to your second snorkeling location, a shipwreck that is now a habitat for many tropical fish. Spend another 45 minutes snorkeling here.

Continue along the west coast to a third location, where you'll stop to enjoy lunch on the boat. Then hop in the water to cool off, swimming up to the nearby beach, where you can go for a walk along the sand if you want. Swim back to the boat for a cocktail and some soca — a style of Caribbean calypso music — while the boat heads back to the marina in Bridgetown. Your tour ends with return to your hotel.
« All Activities