Oistin's Fish Fry and St Lawrence Gap Tour
Caribbean » Barbados » Christ Church » Oistins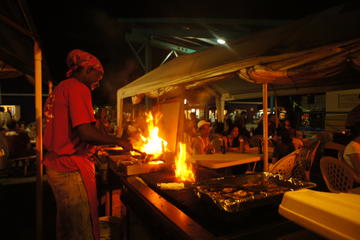 Duration: Flexible
Departs: Oistins, Barbados
Price from USD 70.00
Book Now
Enjoy the amazing atmosphere and tasty fish fry at Oistin's Fish Fry, which transforms a sleepy fishing village into an night-long street party. Mix with locals and tourist alike and shop for local crafts and gifts at the various vendor stalls. With hotel pickup and reserved seating you can relax the entire way there knowing that everything is taken care of. After Oistin's Fish Fry you will head over to St Lawrence Gap, the beating heart of Barbados' Nightlife before taking a scenic drive back to your hotel.
From your hotel your friendly guide will pick you up and drive you to Oistin's Fish Fry where you will have reserved seating.
Experience great atmospheric area on a Friday night. On week days you can find a tranquil fish market and often hear the calls of vendors pedaling their fresh catches of the day. But on Friday and Saturday nights, this sleepy little fishing village transforms in to an all night street party! This is a night that you shouldn't miss.
Enjoy a nice local dinner and visit the numerous
stalls selling gifts and local crafts. The m
ain stage area will be pumping music and impromptu dancing. There is typically a
good mixture of locals and tourists eating alfresco from the plentiful small kitchens. There will be a good selection of different fish dishes that you can try.

After all of the fun and excitement that Oistin's Fish Fry has to offer, you will move along to St Lawrence Gap, the beating heart of Barbados' Nightlife. Enjoy a drink or dance at one of the local hot spots.

Finally, on the way back to the hotel, you will enjoy a scenic nightlife drive.
« All Activities