Natural Wonders of Barbados Tour including Harrison's Cave
Caribbean » Barbados » Barbados » Barbados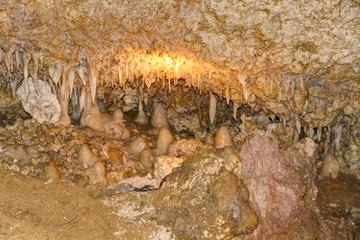 (4.5)
Duration: 6 hours 30 minutes
Departs: Barbados
Price from USD 120.00
Book Now
Come and experience the natural wonders of Barbados! Discover breathtaking landscapes and scenic views and see the natural flora and fauna of the island. Imagine, an island of unspoiled charm and sophistication. Alive with possibilities, as boundless as the turquoise sea and as endless as the sandy shore!
Experience the island's natural wonders while driving through its lush green hills. Visit the magnificent Harrison's Cave full of underground streams and waterfalls, stalactites and stalagmites. Then, it's off to Barbados' very own flower forest, rich in the colors and tropical blooms.
A visit to Barbados will not be complete without a stop at the scenic east coast, famous for its breathtaking beauty and sensational surf. You'll then stop for a fantastic lunch full of local flavor. The last stop on this unforgettable tour will be at the Barbados Wildlife Reserve to catch a glimpse of the green monkey at play, as well as a wide variety of other animals.
Stops on Tour:
Harrison's Cave
Bathsheba

Flower Forest
Barbados Wildlife Reserve
Lunch

« All Activities