Lunch and Snorkel Sail in Barbados
Caribbean » Barbados » Barbados » Barbados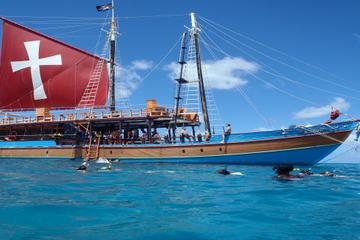 (5.0)
Duration: 4 hours
Departs: Barbados
Price from USD 86.99
Book Now
Snorkel over shipwrecks in Carlisle Bay and swim with sea turtles in Payne's Bay on this lunch cruise in Barbados. Hop aboard the 'Jolly Roger' schooner for 4 hours of fun, including rope swinging, plank walking and conga dancing with fellow partygoers. You'll enjoy a barbecue buffet lunch and unlimited drinks from the open bar, including delicious rum punch! Hotel pickup and drop-off are included.
After hotel pickup, meet your friendly captain and crew aboard the Jolly Roger. This comfortable schooner offers plenty of space for socializing, including a top deck for sunbathing and shade from the heat of the day. Set sail for Carlisle Bay, a marine park where you'll stop for a snorkel and swim over several sunken ships. Then your captain steers up the west coast to Payne's Bay for a chance to swim with sea turtles and feed the fish.
After snorkeling, enjoy a great party on board with the opportunity to rope swing or walk the plank. A fresh barbecue buffet lunch is cooked to order, including your choice of sirloin steak, grilled tuna or baked chicken along with macaroni pie, vegetable rice, steamed vegetables, tossed salad, corn, coleslaw and garlic bread!
Enjoy unlimited drinks from the open bar; the famous Jolly Roger rum punch will put you in the spirit for a pirate wedding and conga line.
When you've returned safely to shore, you'll be dropped off at to your hotel.
« All Activities