Harrison's Cave Tour in Barbados
Caribbean » Barbados » Bridgetown » Bridgetown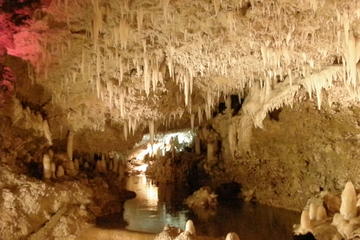 (4.0)
Duration: 4 hours
Departs: Barbados
Price from USD 61.99
Book Now
Visit one of Barbados' most well-known landmarks on this half-day tour! With your knowledgeable guide, discover the beauty of Harrison's Cave, a true natural wonder. Explore the unique underground cave complex by tram and admire the flowing streams and deep pools of crystal-clear water. Walk alongside a waterfall and watch an interesting short film about how the cave was formed.
Experience one of Barbados' fascinating natural wonders on this half-day tour of Harrison's Cave. Located in the heart of Barbados, Harrison's Cave is a breathtakingly beautiful crystallized limestone cavern filled with deeps pools of clear water and an amazing array of stalactites and stalagmites.

After pickup from your hotel, make your way to Harrison's Cave. As you explore the cave by tram with your expert guide, see white flowstones and gaze at the beauty of the cave formations. Make your way through the complex underground system of tunnels and admire the incredible display of stalactites hanging from the roof of the cave and stalagmites that emerge from the ground. See streams of crystal-clear water that drop from beautiful waterfalls to form deep emerald pools.

Formed over thousands of years, the intricate display of stalactites and stalagmites is unforgettable. At one point, you'll get out of the tram and walk alongside a waterfall, which plunges into a deep pool below.

After your cave adventure, you'll be transferred back to your hotel.
« All Activities