Half-Day Barbados Island Naturally Tour
Caribbean » Barbados » St Michael » Bridgetown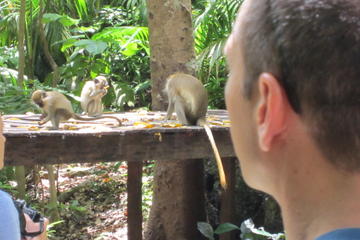 Duration: 5 hours
Departs: Bridgetown, Barbados
Price from USD 76.00
Book Now
Discover Barbados during this 5-hour tour from Bridgetown as we offer on-board commentary on local culture, history, flora, fauna, sights and sounds.
Visit a farm of Barbados's indigenous black-belly sheep, see local monkeys in their natural habitat, and experience the rugged coastal landscape in the Bathsheba Village.
Admire the rugged coastal scenery of Bathsheba on Barbados's east coast. Stroll through a quaint town and a nearby community and take-in Barbados' uniqueness. Enjoy a tasty Barbados Rum Punch!
See the Barbados Green Monkeys freely feeding in a cool tropical forest reserve.
Visit Parks Farm and encounter the unique Barbados Black-belly sheep and pet cute cuddly lambs (seasonal)
Visit a pottery studio in the scenic hilly Chalky Mount village and acquire your 100% Barbadian colorful and functional clay art.
« All Activities