Explore and Discover Barbados Tour with Boat Cruise
Caribbean » Barbados » Barbados » Barbados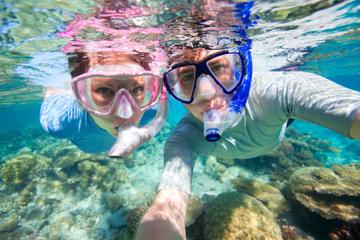 (4.5)
Duration: 6 hours
Departs: Barbados
Price from USD 74.99
Book Now
For a more in depth exploration of Barbados, whether it's your first time on the island or not, book the Explore and Discover Barbados Tour! This extensive tour will take you around the island's coast and includes a boat cruise and the opportunity to swim and snorkel with sea turtles - what more could you want?
Explore and Discover Barbados is a specifically created tour that will show first-time visitors the beauty and charm of Barbados. It is also the perfect tour for returning visitors to renew fond memories and make a few new ones.

Your route starts along the east coast. Our first stop is Cherry Tree Hill where we will be approximately 850 feet above sea level. Our next stop is Morgan Lewis Windmill, the last sugar windmill to operate in Barbados. It ceased operation in 1947, and in 1962, the mill was given to the Barbados National Trust by its owner Egbert L. Bannister for preservation as a museum. In 1997 financial support was provided for emergency repair work and it was then reopened in 1999. With all its original working parts having been preserved intact, it is one of the only two working sugar windmills in the world today.
We will continue the tour onto the coastline traveling through Catthewash and then stopping in Bathsheba, which is the favorite stop for surfers in Barbados. Get ready to continue the journey and stop at St John's Church, one of the oldest churches of the island set on a cliff so you can capture spectacular views. From this Gothic church we will travel to the parish of St George. We will pass the Gun Hill Signal station and see the Great White Lion as we make our way to the Garrison Historic area. The Garrison has a special importance for the people of Barbados as it was here where the flag of the independent nation was unfurled on November 30, 1966.
For the second part of your day we will spend the afternoon at Carlisle Bay. Get ready to board the boat that will be take you to swim with the turtles! You will also enjoy free time to relax on the beach. You will be provided with a beach lounger, umbrella and a complementary drink.

This is an absolute must in Barbados, with many photo opportunities not to be missed.
« All Activities