Bridgetown Walking Tour in Barbados
Caribbean » Barbados » Barbados » Barbados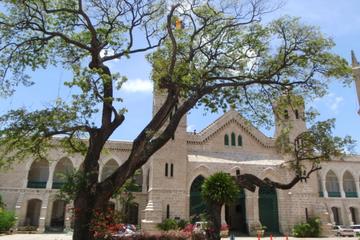 (3.5)
Duration: 2 hours
Departs: Barbados
Price from USD 49.99
Book Now
Take a 2-hour walking tour of historic Bridgetown — the largest city in Barbados and a UNESCO World Heritage site! You'll visit several points of interest with an informative guide. Stroll past historical buildings in the capital, including St Mary's Church, Bridgetown Jewish Synagogue and St Michael's Cathedral. View Queen's Park and several monuments in National Heroes Square, where you'll also find the Parliament Buildings. Your tour ends with free time for shopping plus complimentary lunch and drinks. Hotel pickup and drop-off are included.
Embark on a 2-hour walking tour of Bridgetown after hotel pickup. Follow your guide to several monuments and historical houses of worship, starting with St Michael's Cathedral.
Originally completed in the mid-1600s, the cathedral was destroyed by a hurricane and later rebuilt to hold 1,600 seats. See the Bridgetown Jewish Synagogue, built in 1654 and beautifully restored in the late 1980s after being abandoned for nearly 50 years. Then admire the barrel-vaulted ceilings and clock tower of St Mary's Church, a Georgian-style building constructed in the mid-1800s.
You'll venture to Queen's Park, a national park that's home to one of the island's largest trees: the baobab tree. Learn about the park's solar house and various art installments before venturing to National Heroes Square, formerly Trafalgar Square.
Admire a bronze statue that honors Lord Horatio Nelson, considered a hero in Barbados' battles against the French, who controlled several other Caribbean islands in the early 1800s.
Located at the center of Bridgetown, the square features 10 Bajan heroes, from cricket stars to leaders of slave revolts. On the square's north side you'll find the Parliament Buildings, which contain public offices as well as the Senate and House of Assembly.
After your tour, enjoy lunch, drinks and optional shopping in the city before your guide drops you off at your hotel.
« All Activities