Best of Barbados Tour
Caribbean » Barbados » Barbados » Barbados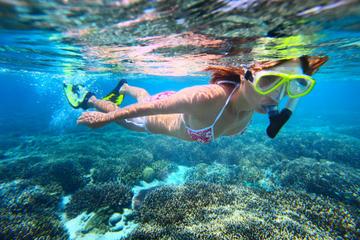 (4.5)
Duration: 7 hours
Departs: Barbados
Price from USD 137.99
Book Now
On this full-day tour, hit the top attractions of Barbados and immerse yourself in its lush beauty. Observe cheeky green monkeys freely roaming the mahogany wooded Wildlife Preserve. Listen to the pounding surf along the eastern coast, and descend into the crystallized limestone world of Harrison's Cave. Soak up the sun on the white sands of Carlisle Bay beach, where you'll take a boat ride to swim with turtles and snorkel around shipwreck ruins home to tropical fish, rays and sea horses. Lunch and round-trip hotel transport are included.
After hotel pickup, begin your tour in central Barbados, deep beneath the earth's surface at Harrison's Cave. During the guided tram tour, gaze at ceilings studded with stalactite-icicles and gravity-defying stalagmites growing upward from the ground. As you hear gurgling streams and pass by smooth glassy pools of water, learn about the cave network snaking for at least 1.4 miles (2 km), which thwarted expeditioners and remained mostly unexplored until 1970.

Back in the vehicle, cross the island's verdant hills and admire the rugged allure of the eastern coast. Massive Atlantic waves batter the shoreline, making most of the area unsuitable for swimming but mesmerizing to watch. You may glimpse a natural pool or two, places where waves smash over reef and rock, creating small swimming basins near the shore.

After a lunch break at a picturesque spot (lunch provided), head north to Barbados Wildlife Reserve, where you'll enjoy up-close views of impish green monkeys that enter and leave the park as they please. In the mahogany woodland largely devoid of cages, watch the olive-tinted furry monkeys interact with other residents of the reserve, including brocket deer, agouti, caimans and armadillos. Stroll through the aviary and hear the squawking of parrots, flamingoes and peacocks, or swing by the reptile exhibit.

After the Wildlife Reserve, travel to Carlisle Bay, a crescent-shaped natural harbor on the western coast. Take a short boat ride to an excellent snorkeling spot, where six shipwrecks encrusted with coral and kelp have attracted populations of fish, sea horses, octopi, rays and turtles. Slip on provided snorkeling gear and hop in.

Dry off by stretching out on the velvety sands of the beach. Sip a refreshing beverage (included), admire the glittering Caribbean and work hard on your tan before being transported back to your hotel.
« All Activities