Barbados Turtle Feed and Swim Tour
Caribbean » Barbados » Bridgetown » Bridgetown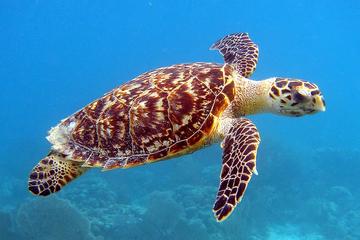 Duration: 2 hours
Departs: Bridgetown, Barbados
Price from USD 57.00
Book Now
Go swimming with the turtles in the Barbados waters! You will be able to feed the turtles and take underwater photos with them in the Carlisle Bay. Depart from the dock and enjoy a cool ride over to the Turtle retreat.
Meet at the Carinage Dock Bridgetown and board the boat that will take to you swim with the turtles of Carlisle Bay, Barbados. Enjoy the very scenic views of the south coast of the Barbados Island. While you are there you will see the Sea Port, Fishers Complex, Hilton Hotel, just to mention a few landmarks. Also enjoy light refreshments drinks and snacks on this trip. All snorkeling equipment is provided.

While there you can relax and enjoy the peaceful creatures take photos and totally live the moment.
« All Activities