Barbados Sunset and Snorkeling Catamaran Cruise
Caribbean » Barbados » Barbados » Barbados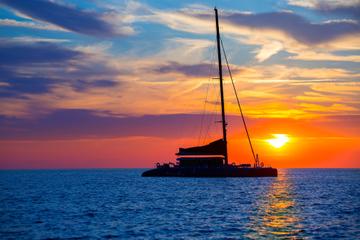 Duration: 3 hours
Departs: Barbados
Price from USD 69.99
Book Now
Spend a pleasurable afternoon and early evening on this small-group sunset sail from Bridgetown. Cruise by catamaran along Barbados' west coast, stopping to snorkel in the clear Caribbean Sea at two locations, where you'll see fish, turtles and other marine life. Then watch the vibrant sunset while sipping sparkling wine and nibbling on snacks. Hotel transportation and unlimited drinks on board are included. This tour is limited to just 12 people to provide you with a more intimate experience.
Your Barbados sailing adventure begins with hotel pickup for the drive to the marina in Bridgetown. Here, board your catamaran, El Tigre, a 60-foot-long (18-meter), 24-foot-wide (7-meter) schooner that's big enough to carry 50 passengers but is limited to just 12 people on this cruise to provide you with ample space and comfort. The boat offers both shady and uncovered areas; take a seat wherever you wish.

Your cruise departs in the afternoon to give you time to swim and snorkel before sunset. Pull out of the marina and head along the island's west coast, enjoying the sea breeze on your face and admiring the picturesque coastline. When you reach your first snorkeling spot, put on the provided gear and hop in the water to check out the shipwreck and tropical fish below. Then sail to a second snorkeling spot where sea turtles are often found.

Back on board, dry off and settle in for the sunset portion of your cruise. The crew will serve canapés, sparkling wine and other unlimited beverages for you to enjoy while you watch the sun sink below the horizon. Soak up the warm glow of the sea and sky, and then watch the island begin to light up for the night.

When the show is over, head back to the marina and return to your hotel.
« All Activities