Barbados Snorkel Adventure in Carlisle Bay
Caribbean » Barbados » Barbados » Barbados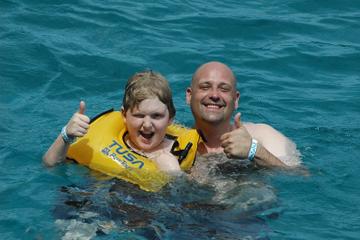 (5.0)
Duration: 2 hours
Departs: Barbados
Price from USD 69.99
Book Now
Cruise to Carlisle Bay on a pontoon boat in Barbados and snorkel over several shipwrecks. This 2-hour adventure takes you to the marine park to swim with sea turtles and feed the tropical fish before lunch and refreshing rum punch at the Jolly Roger Tavern. Hotel pickup and drop-off are included in your small-group tour, limited to 20 people.
Step foot on your pontoon boat after you're picked up from your hotel. Your captain will sail to Carlisle Bay, a small harbor with a marine park — popular with divers for its many sunken ships that dot the ocean floor.
Cruise over five intriguing shipwrecks, such as the Bajan Queen, stopping twice along the way to snorkel in search of relics like anchors and cannon balls. You'll have the opportunity to swim with sea turtles and feed the fish before heading back to shore to enjoy a sumptuous Barbadian lunch and refreshing drinks.
At the Jolly Roger Tavern, choose from a menu that includes various platters, burgers and chicken tenders as well as macaroni pie, steamed vegetables and rice. Be sure to try the famous Jolly Roger rum punch
before your tour ends with drop-off at to your hotel.
« All Activities