Barbados Private Customizable Island Tour
Caribbean » Barbados » Saint Michael » Bridgetown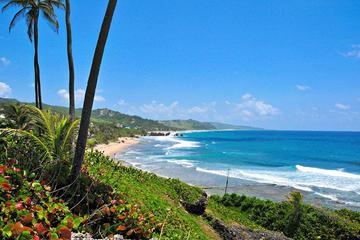 Duration: Flexible
Departs: Bridgetown, Barbados
Price from USD 108.00
Book Now
This private island tour will take you as far as you would like to see around the island of Barbados. Customize your own tour by choosing your attractions and places to go. This tour will be tailored to suit your interests and you will have your own private local professional expert guide, who will give you information the places you can visit, and private vehicle.
The tour takes you along coast and across the island. You will go into highland area, where monkeys are often seen in the wild. See great scenic views and quaint villages all along the way. There will be stops at attractions and the local hangout spots to eat and drink by the sea. Go see Bathsheba Beach, one of the most beautiful places on Earth and voted one of the world's best beaches.
You will be picked up by your guide at your hotel within Bridgetown or outside the main port gates on the South side by pick up and drop-off area.

You will start heading along the west coast after leaving your hotel or port and pass through Holetown, the first settlement place of the English. This coast is know as little England to locals and foreigners alike because of the English styled hotels, houses, and culture. Heading North or East at your preference, you will drive along winding roads through the county and villages while passing many historic churches and towns all the way to the end of the island at North point animal flower caves. Upon arrival, you can enter the caves for a guided tour and walk along the Atlantic cliffs. This place is a great opportunity for photos and videos.

Ask your guide to head towards Bathsheba Beach through St Nicholas Abbey and Morgan Lewis, a 400-year old Wind Sugar Mill. Following the road along more winding hills with Atlantic views. You will also see views of The Scotland district, which is a unique formation that was made when the Ocean spewed its floor onto the 100% coral island that is Barbados. This formation is made of hills of sand, chalk and clay. There are potteries up in the Chalky mount where you can visit.
While you are moving along to Bathsheba Beach through Cattlewash, a strip of oceanfront and pristine natural beach, that is many miles long. There are a few sea side houses in this area. You can choose as local spot here to stop for lunch by the ocean, at your own expense.
Enjoy some beer and soft drinks that is included in your tour. Your guide will be able to recommend different restaurants that will have great Bajan food and drinks. Any one that you choose, you will enjoy.

After relaxing and eating, travel back to the port driving through more central parts of the island while passing sugar factories and fields of sugarcane, beautiful trees, and flowers.
« All Activities