Barbados Private Boat Tour
Caribbean » Barbados » Bridgetown » Bridgetown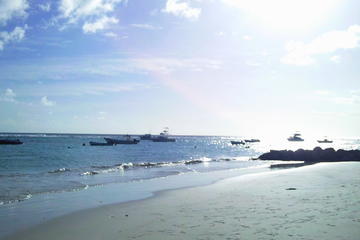 Duration: Flexible
Departs: Bridgetown, Barbados
Price from USD 55.00
Book Now
Swim with the giant green turtles and snorkel on ship wrecks and reefs. Your private guide will take you on a adventure around the Barbados island based on what you want to see. For a minimum of 2 guests and a maximum of 4 adults and 2 youths or 4 youths and 2 adults guests on West coat boat trip and 6 guests for Carlisle Bay boat trip and includes beer and gear. You can chose the area you want to explore: Carlisle Bay or the West Coast.
For the Carlisle boat trip, you meet your guide at Carlisle bay in front lifeguard tower. You can park your car in front Lobster Alive or Copacabana.
For the West Coast boat trip, you meet your guide at Sandy Beach or Carlisle Bay

Depending on your route choice, you will be taken along the South Coast to Carlisle Bay marine park where you will get to swim with turtles and snorkel on shipwrecks. Or you will be taken to Carlisle Bay first and then head up to the West Coast towards the famous Sandy Lane hotel and Turtle Bay (Paynes Bay) and sightseeing along the rich and famous coast of Barbados.

While you are out there you can relax, enjoy a beer, or just listen to music. This is your private boat and only yours to experience.

Your private guide is a licensed and experienced Barbadian Skipper, who will personally show you the ropes in the Barbados water and go farther. Let your guide know what you want to see and do!

A minimum 2 guests is required to book your own private boat. Transportation from your hotel or cruise port can be arranged at an additional cost, to be paid direct.
« All Activities