Barbados Dinner Cruise and Show
Caribbean » Barbados » Barbados » Barbados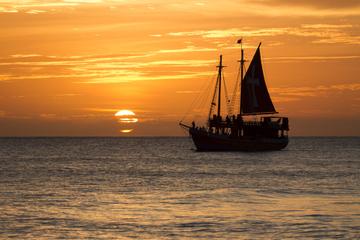 Duration: 3 hours 30 minutes
Departs: Barbados
Price from USD 86.99
Book Now
Let a pirate crew entertain you aboard the 'Jolly Roger' as you sail to Payne's Bay from Bridgetown Harbour. Your 3-hour dinner cruise in Barbados takes you along the west coast, where you're likely to spot dolphins playing in the wake. Enjoy a barbecue buffet dinner with unlimited drinks from the open bar while you watch the interactive show on board! Hotel pickup and drop-off are included.
Arrive at the dock after hotel pickup and be greeted by a spectacular pirate show, including fire eating, limbo dancing and stilt walkers. You'll be highly entertained by thematic characters in costume like the Town Crier and Mother Sally during this interactive performance — even before your boat sets sail!
Then climb aboard the Jolly Roger to continue the theatrical extravaganza with your captain and pirate crew. Enjoy Caribbean island appetizers like jerk pork from Jamaica, bol jol from St Vincent, pelouri balls from Trinidad, and fish cakes and breadfruit chips from Barbados. Your buffet dinner also includes a choice of barbecue steak, grilled tuna or baked chicken, along with unlimited drinks from the open bar.
Departing from the capital city, your boat travels alongside the outside wall of Bridgetown Harbour, then sails along the picturesque west coast of Barbados to Payne's Bay.

« All Activities