Barbados Combo Tour: Harrison's Cave and Mount Gay Rum Visitor's Centre
Caribbean » Barbados » Barbados » Barbados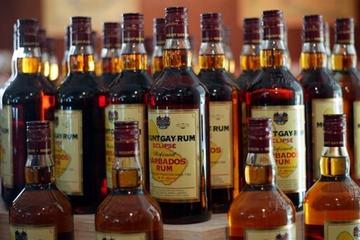 (4.0)
Duration: 5 hours
Departs: Barbados
Price from USD 100.88
Book Now
Hit two of Barbados' top attractions — Harrison's Cave and Mount Gay Rum Visitor's Centre — on this half-day tour. Travel deep underground aboard an electric tram through limestone caves and admire waterfalls, pools, stalagmites and stalactites as an expert guide provides engaging commentary on the cave's history and geology. At the distillery, learn the colorful history behind the world's oldest rum, its refinement and aging process, and then delight in a tasting session of Mount Gay Rum's signature flavors. Hotel transport is provided.
After hotel pickup, head to Harrison's Cave, located in the parish of St Thomas in the beautiful green central uplands of Barbados, about 8 miles (13 km) north of Bridgetown. 



Upon arrival, climb aboard the electric tram, which descends into a 1.5-mile (2-km) cave. As your guide explains the natural wonders you see, listen for trickling streams and rushing waterfalls as you wind past clear deep pools. As you cruise through a limestone cathedral of stalactites and stalagmites, learn about how they grow each year by the thinnest of paper margins. 



Explore the Great Hall, whose ceiling reaches a height of 50 feet (15 meters), and hear about the cave's discovery in the 1970s. The tram stops every so often so you can disembark and meander for a little while.



After the hour-long tour of Harrison's Cave, return to your vehicle, travel south to Bridgetown and arrive at Mount Gay Rum Visitor's Centre, reputedly the home of the world's oldest rum and birthplace of the alcoholic spirit. Meet your distillery guide and learn about the successful experiment in 1703 conducted by the island's early settlers who used molasses to produce the beverage.

Browse through displays of antiquities and listen to how Sir John Gay refined the distillation process to produce what is known today as Mount Gay Rum. Then step inside a theater and watch an entertaining presentation on the distillery's centuries-old process of producing, refining and aging the popular drink.

End the distillery tour with a tasting session, where you'll sample several Mount Gay portfolio brands. As you sip the amber-colored spirits, see if you can pick up the subtle scents of butterscotch, hazelnut, banana, or spices like cinnamon and nutmeg.

During your free time after the tour, wander into the gift shop for keepsakes and bottles to take home. Still thirsty? Mosey over to the bar and lounge, and ask a mixologist to concoct a cocktail for you to relish before you're transported back to your hotel.
« All Activities