Atlantis Submarine Expedition Tour
Caribbean » Barbados » Barbados » Barbados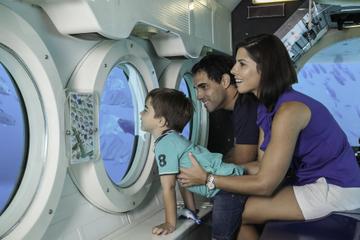 (4.5)
Duration: 2 hours
Departs: Barbados
Price from USD 98.99
Book Now
Come experience the adventure of a lifetime on board the Atlantis Submarine! Your adventure begins at the Shallow Draught where you will have time to browse for souvenirs or enjoy a cool drink and snack at Cafe Sublime. Your quest begins when you board the shuttle vessel "Ocean Quest" as you sit back and enjoy the seven-minute scenic cruise to the Atlantis Submarine as the Atlantis crew gives an informative talk.
Once arriving at the dive site, you are treated to the sight of the Submarine surfacing. Then you will make the easy transfer from the Ocean Quest to the Atlantis. On board the vessel you are seated in spacious, air-conditioned comfort as your incredible underwater experience begins.

First the submarine will dive to 55 feet (17 meters) to view the beautiful coral reef and the abundance of marine life, including spectacular coral, sponge, and colorful fish through large, clear viewing windows. The 40-minute underwater journey is narrated by a knowledgeable co-pilot who will point out and explain the amazing sea life as well as give a history of Atlantis and the submarine itself. Before returning to the surface, the submarine descends to depths of 115 to 150 feet (35 - 45 meters) to view what has in the past been reserved for scuba divers only - a sunken shipwreck!

After resurfacing, you are transferred back onboard the Ocean Quest for the return to Shallow Draught. All adult tickets include a complimentary drink!

The Atlantis submarine is the first attraction in the Caribbean to receive the double award from Green Certification in alliance with the Green Globe International.
« All Activities