2-Tank Shipwreck Dive in Barbados
Caribbean » Barbados » Barbados » Barbados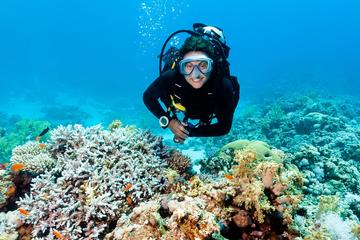 Duration: 3 hours
Departs: Barbados
Price from USD 119.99
Book Now
Whether you just got your certification or are a long-time scuba diver, you'll be impressed by the array of colorful coral, tropical fish and other marine life inhabiting the crystal-clear waters of Barbados. Keep an eye out for sea anemones, eels, parrot fish and more at different dive sites that might include several shipwrecks. This 3-hour dive in the beautiful, clear waters of Barbados is an experience to remember.
There are over 200 shipwrecks in the waters just off Barbados. Explore a couple of them with this 3-hour dive. Make your way to the Hilton Hotel Complex in St Michael. After checking in for your dive and meeting your dive guide, you'll be outfitted with scuba gear (BCD, regulator, mask, fins, tanks and weights) and given an introduction to the different dive sites. The sites vary depending on daily conditions. These are certified dives, and you must show proof of your diving certification to participate.
When your group is ready, head out into the beautiful turquoise waters off the Barbados coast and get ready for your underwater adventure. You'll make two dives, with a break in between. After your second dive, return by boat to the dock, with drop-off at the departure point.
« All Activities